award-winning
Author On Wheels
Chris Collin is the author on wheels. Visiting schools Australia-wide!
Chris has a range of awesome incursions and live author visit options for schools, preschools/long daycare and public libraries/events/festivals .
Click on the heading for your preferred booking option. Whether you are a school, early learning centre, library, festival or public event, Chris has a show or workshop for you.
BOOK A VISIT – It's easy to book using one of the following options:
1. Contact us at Funkybooks if you would prefer to book directly with us.
3.
4.
Schools/Festivals
Chris' Fun and Funky Author Incursions are adapted to suit all primary levels, Chris will share how we get inspiration for stories, taking the students on a fun and immersive journey of the joy of story through one of his own picture books, culminating in an art activity where the students will start their very own creative project – just for the fun of it!
Chris has a range of fantastically funky workshops too. The Chapter Challenge  is an awesome workshop for students of all writing abilities, (yes, even reluctant writers!) Chris also facilitates more intensive 'masterclass' Workshops for keen writers in groups of up to 30. More info on these workshops can be provided on request – Contact Us.
Live Virtual Visits for Primary Schools – When logistical costs or other factors prevent an author incursion,  a live virtual visit can be a great option, without missing out on all the ingredients of an incursion. One of the great aspects of the virtual visit is that Chris can present to up to 100 computers, so multiple classes can be accessed and families can access the event from home if students are away – no-one needs to miss out!
Preschools/Early Learning Centres
1. Incursion
Chris is a firm believer in play-based learning and performs Fun and Funky Storytime shows for preschools, involving live narration to an audio-visual slideshow of his books, puppets, singing and dancing and dress-up. The show finishes with an art activity. Children will join one of Chris' puppet friends, using basic shapes to draw a character from the story!
2. Live Virtual Story-time
If logistics and/or cost is an issue with an incursion, Chris performs a Live Virtual Storytime with all the elements of an incursion!
Public Events (libraries, community events, festivals etc)
One of the most important things when performing in libraries and community events is to cater for the wide age range that attend these events, in such a way that everyone is involved and included. Chris' public shows are designed for the whole family, regardless of age – promoting his philosophy of encouraging children (and their adults) to read for the joy of reading!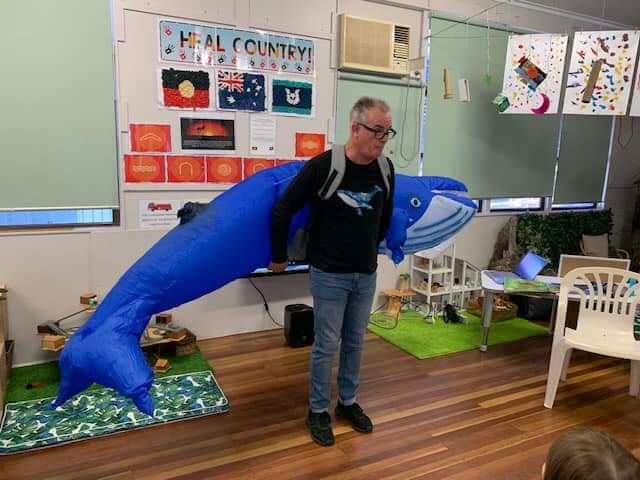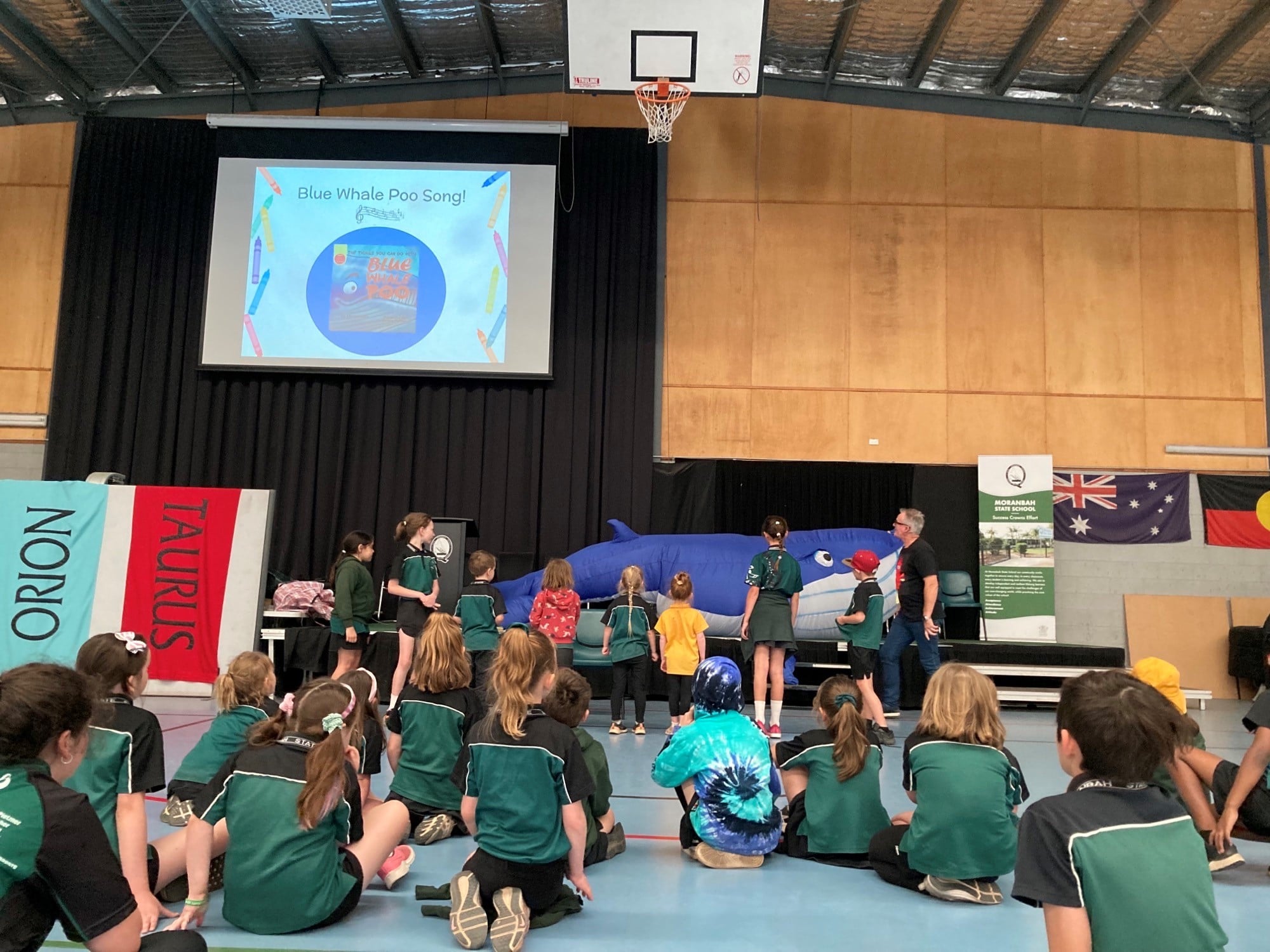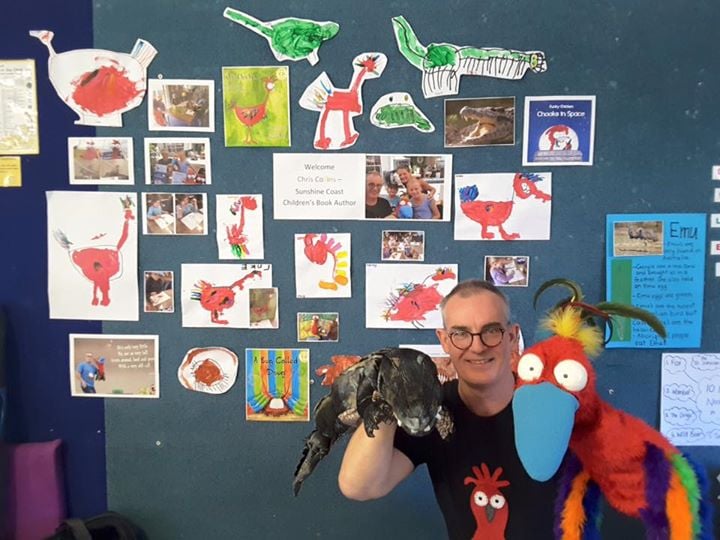 Fabulous workshop that had all the children and parents (and even the staff!) joining in. I liked how it involved so many elements – story telling, puppetry, factual information about the Australian bush cockroach, singing, dancing and dressups, rhyming and illustrations. Enjoyed so much by one family that they went to the session down at Cannonvale library as well!
Chris was fabulous. Our whole school attended and the benefit was just enormous. Funky is the new addition to their vocabulary! For some children I am sure, his visit will become a treasured life memory. A wonderful male role model for boy writers.
Great presentations! Students were thoroughly engaged and interested in your books and presentation style. Students were encouraged to go away and write their own stories which in fact many did. Thanks for visiting, we would recommend your visit to any school.
We had some very positive feedback from the teachers in regard to your presentations. It was excellent that Chris adapted the format and content to suit the various age levels of the students. This resulted in the children being really engaged and enthusiastic. The year 5 and 6 teachers made particular mention of the relevance of the writing /editing /publishing process for their students. I will definitely be recommending him to other schools and teachers
The students LOVED Chris' sessions and were completely enthralled for the full 45 minutes – even the very young students. His book talks were very popular and the students that participated in his writing workshop learned some practical writing skills. Chris was an absolute professional to work with and we would recommend him to any writing Festival looking for a presenter who wants to get younger students excited about reading.
Chris was an absolute hit. He had the students dancing, singing, acting, drawing, writing and rhyming, with lots of laughs in between. He was so inspiring that we've had children of all ages choosing to draw and write about his characters in their lunch breaks!
What an engaging and positive presenter! The joy Chris brought to the students as he interacted with them with true interest in their lives and their work was fabulous. His amazing resources for teachers are a testament to Chris and his commitment to sharing a passion for reading and writing with everyone!
WOW, WOW, WOW! All Chris' sessions were interactive, funny, and appealed to all the audience members, regardless of their age group. From the Year 6 through to the Prep students, Chris was able to entertain and keep our students on the edge of their seats. His enthusiasm also transferred back to the classroom where, even reluctant writers and readers, were happy to give his activities a go or simply finish off what they had started. Chris also gave up time to chat to students about their writing efforts and was happy to look over their ideas and give feedback. This was greatly appreciated by the students! I would highly recommend Chris and his shows as he was really accommodating, flexible, engaging, funny and an absolute joy to have within our school.
Thank you so much for your incredible virtual author visit. The prep students thoroughly enjoyed hearing a story from a 'real' author's perspective, and LOVED meeting Funky Chicken and his friend Poss!
our books
Order your copy here
All of our books come with an incredible digital package of the narrated story to a full orchestral backing score plus a song, all performed by the author.
BUY NOW